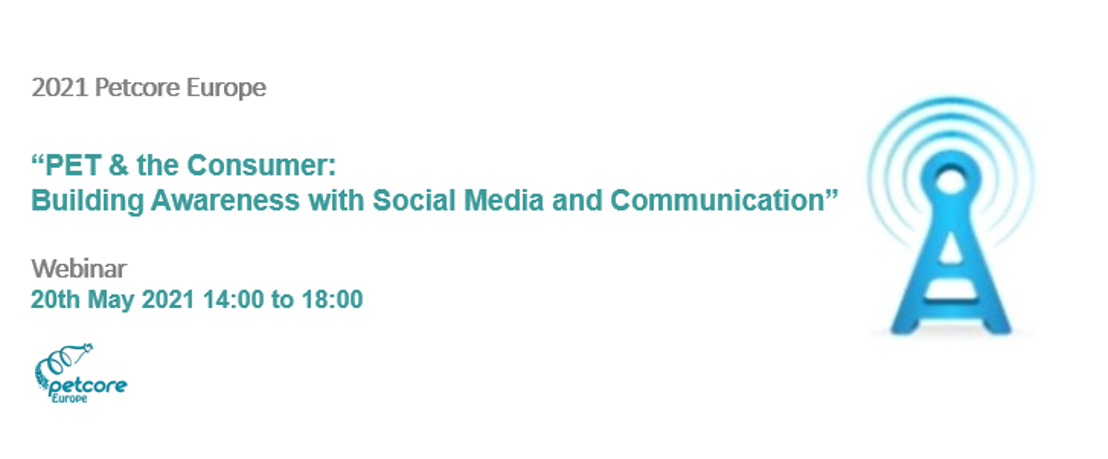 Webinar on PET and the Consumer: Building Awareness with Social Media and Communications.
Tuesday, May 4, 2021 —
Dear all,
As you all know we are making great progress with our Communication Campaign!
The project is self-financing, independent from the operational budget of PETCORE.
With the initial financial support of several of our members, for which we are extremely grateful, we were able to commission two high-quality communication agencies (Fleishman Hillard and Fehr Advice).
Given the level of expertise of these agencies, some of our members kindly agreed to invest additional resources. However, unfortunately, despite this generosity, we are still missing the necessary finance to fully achieve our Communication Campaign, which we think is a key element for the promotion of PET.
Therefore, due to the currently growing interest in PET Recycling, Petcore Europe is organizing the third in a series of 2021 online webinars on: "PET and the Consumer: Building Awareness with Social Media and Communications"
Please note that the price is higher than usual, given that it is a more comprehensive event (half day). All financial contributions will help us to achieve greater results via our Communications Campaign.
We are counting on your continued support through your registration and active participation. We would also welcome support in promoting the webinar through your network (email, LinkedIn Twitter) by sharing our post.
Let's not forget PET is the cornerstone of ensuring the sustainability of our business and therefore communication and education of the benefits of our products is essential: listen and learn fruitful tips and tricks from industry experts from across the globe to directly support your business and our industry.
Maria Trofimova Communications Executive, Petcore Europe