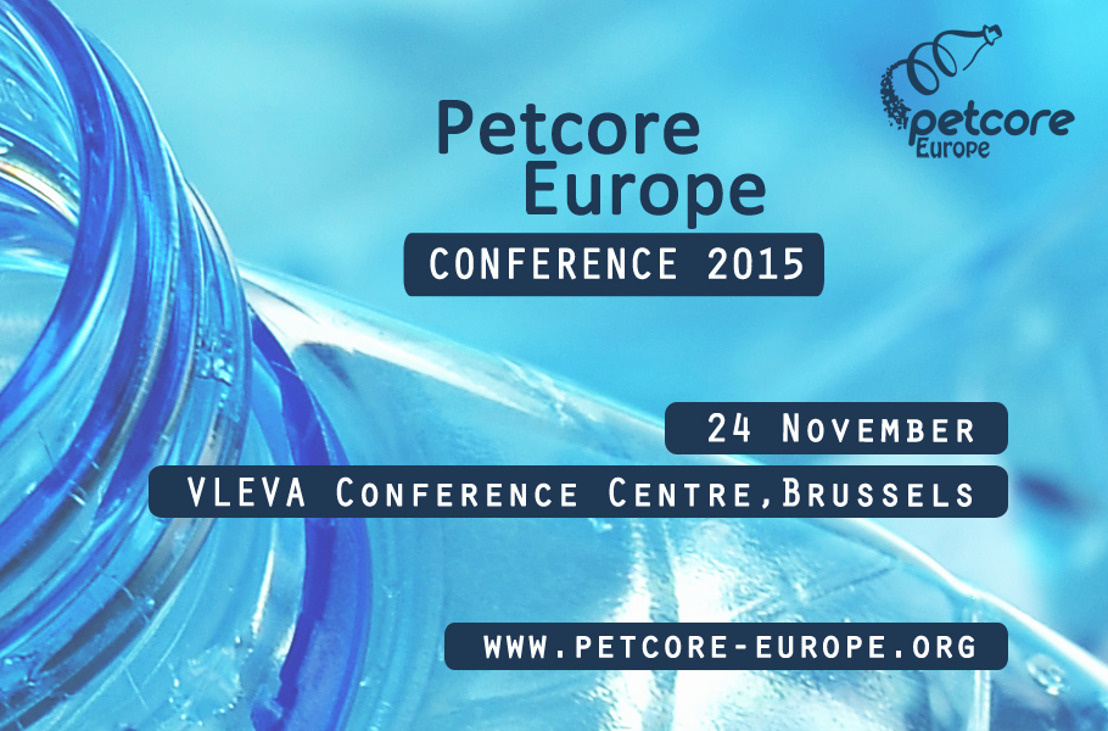 Petcore Europe Conference 2015 - Programme & Registration
ALL ABOUT PET – Our annual Petcore Europe Conference will focus on four themes: Sustainability, European Circular Economy, Innovation and Globalisation
Tuesday, August 18, 2015 —

Brussels
Petcore Europe invites you to its 2015 annual conference in Brussels on 24 November.

Want to guarantee your place, then register here!

Well known in previous years as the PET Network Day, the Petcore Europe Conference brings together more than 100 experts and leaders from the whole PET value chain in Europe and beyond.
Our programme will focus on four themes:
Sustainability
Polymark Project - The Novel Identification Technology to differentiate High Value Plastics in Waste Streams: disclosure of preliminary technical results

Expanding PET recycling to new packaging (PET Thermoforms & heavily coloured PET): current status and a way forward

Product Environmental Footprint (PEF): a European Commision project on e.g. packed water

Implementing the food contact plastics recycling regulation in practice - an update
European Circular Economy
The new European Circular Economy package by the European Commission

2014 PET collection and recycling in Europe: PCI 2014 report for Petcore Europe
Innovation
Recent examples of new PET packaging & future trends by Petainer

Use of PET in aerosols by the European Federation of Aerosols (FEA)
Globalisation
Update on the PET situation in India, Russia and USA

Waste Free Oceans (WFO): The problem of marine litter

Effective communication on PET to the public: How to respond to public concerns and needs?
Conference delegates
The participants will include PET resin manufacturers, packaging designers and manufacturers, equipment manufacturers, brand owners, waste management organisations, recyclers, recycling machines manufacturers, representatives from the European institutions and European organisations interested in PET.
Hotel recommendation
It is a busy period in Brussels, so anticipate and book your hotel now! Here is our hotel recommendation:
IBIS Brussels Centre Ste Catherine
Joseph Plateaustraat 2 I 1000 Brussels I Belgium
Rate per room, per night: 134,75 € (from 23 to 25 November)

Please book your room by filling in this form and sending it to H1454-RE2@accor.com.
Petcore Europe is supporting PRS, the Plastics Recycling Show, to be held in Brussels on 25-26 November. This is therefore the perfect opportunity to combine your participation in our Petcore Europe Conference with a visit to the PRS Show. Interested? Then click here.
Sponsorship
If you are willing to become a sponsor of the Petcore Europe Conference, please contact Eva Schneider, eva.schneider@petcore-europe.org. Sponsors' names and logos are visible on all our communications material and website. Furthermore, our sponsors can get a special rate for an exhibition area.
Exhibitors
An exhibition area is available on request. Please contact Eva Schneider, eva.schneider@petcore-europe.org.
Date & Venue
Tuesday, 24 November 2015 from 10:00 - 17:00
VLEVA Conference Centre, Avenue de Cortenbergh 71, 1000 Brussels
We are looking forward to welcoming you to our conference.
Your Petcore Europe team
Eva Schneider Communications Officer, www.petcore-europe.org