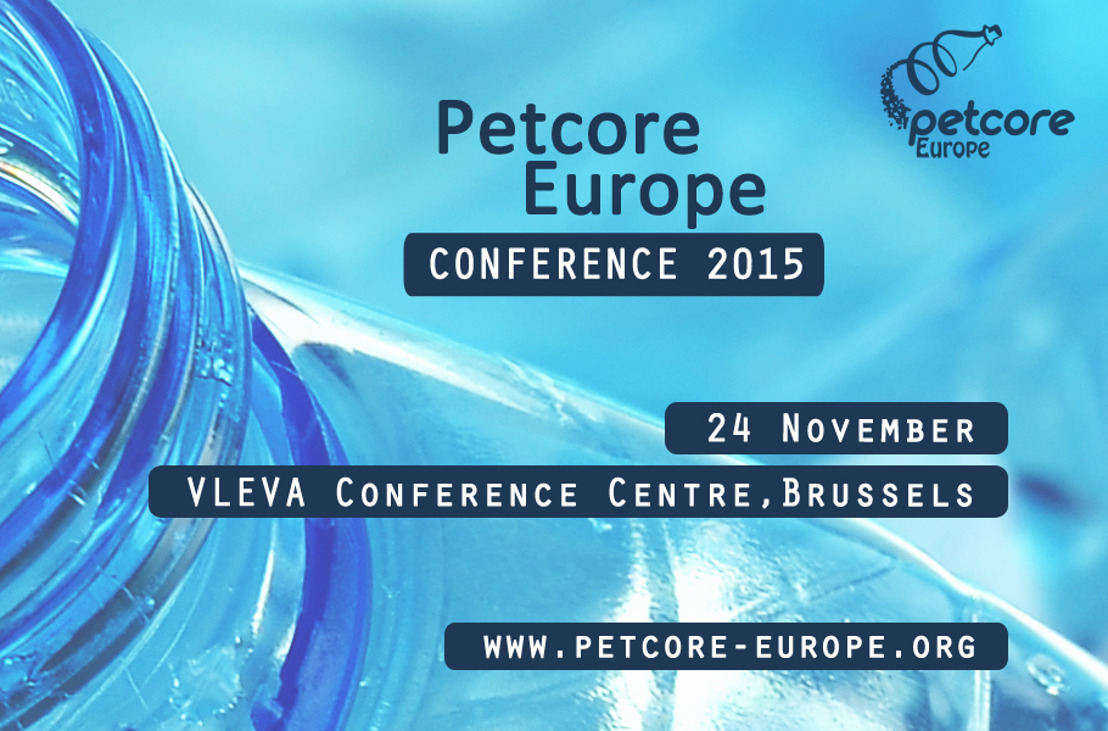 Petcore Europe Conference 2015 - Last chance to register for the PET event in Brussels
Only a few places left!
Tuesday, November 10, 2015 —

Brussels
With over 130 participants from the complete PET value chain, the European institutions and the media, our annual Petcore Europe Conference is nearly booked out. If you want to participate, don't hesitate and guarantee yourself one of the last spots!

The conference will focus on four themes: Sustainability, European Circular Economy, Innovation and Globalisation.

For more info, CHECK OUT OUR FINAL PROGRAMME HERE AND DON'T FORGET TO REGISTER HERE!
CONFERENCE PROGRAMME
1. Sustainability
EU Product Environmental Footprint (PEF): a European Commission project on packed bottled water
Simone Pedrazzini: Life Cycle Assessment & Sustainability Consultant, Quantis for EFBW

"Recycled but not recycled": Working on the future of PET Thermoforms
Wim Hoenderdaal: Technical Marketing Manager PET, Indorama Ventures Europe

EU Polymark Project - The Novel Identification Technology to differentiate High Value Plastics in Waste Streams: preliminary technical results
Hans Eder: Head of Research and Development, Sesotec

Implementing the EU food contact plastics recycling regulation in practice: an update
Elfriede Hell: General Manager Division recycling technology, Starlinger
2. European Circular Economy
2014 PET collection and recycling in Europe: PCI 2014 report for Petcore Europe
Helen McGeough: Senior Consultant, PCI PET Packaging, Resin & Recycling Ltd

An update on the Circular Economy Package and recycling
Padraig Nolan: Regulatory Affairs Manager, European Plastics Converters (EuPC)
3. Innovation
Examples of new PET packaging & future trends
Annemieke Hartmann-Jemmett: Group Commercial Strategy Director, Petainer

Use of PET in aerosols
Johannes Burghaus: Section Head, R&D Package Development Fabric and Home, P&G / European Aerosol Federation (FEA)

Novel Circular PET Technology for coloured post-consumer packaging
Tonnis Hooghoudt: CEO, Ioniqa
4. Globalisation
How Petcore Europe is connecting globally
Mark Kenrick, Petcore Europe President

Waste Free Oceans (WFO): The problem of marine litter
Stephanie Maes: Project Manager, Waste Free Oceans

Panel debate - What message must the PET value chain communicate to the wider public and how should it do this?
DATE & VENUE
Tuesday, 24 November 2015 from 10:00 - 17:00
VLEVA Conference Centre, Avenue de Cortenbergh 71, 1000 Brussels, Belgium
If you have any questions, please do not hesitate to contact us. We are looking forward to welcoming you in Brussels.
Your Petcore Europe team
WITH THE KIND SUPPORT OF
OUR SPONSORS:
Committee of PET Manufacturers in Europe (CPME), European Federation of Bottled Waters (EFBW), EREMA, Forum PET Europe, Plastics Recyclers Europe (PRE), Starlinger, Unesda - Soft Drinks Europe, Waste Free Oceans (WFO)
AND OUR MEDIA PARTNERS:
EUWID, PET Planet, Plastics Information Europe (PIE), Plastics News Europe, Recycling magazine
Eva Schneider Communications Officer, www.petcore-europe.org