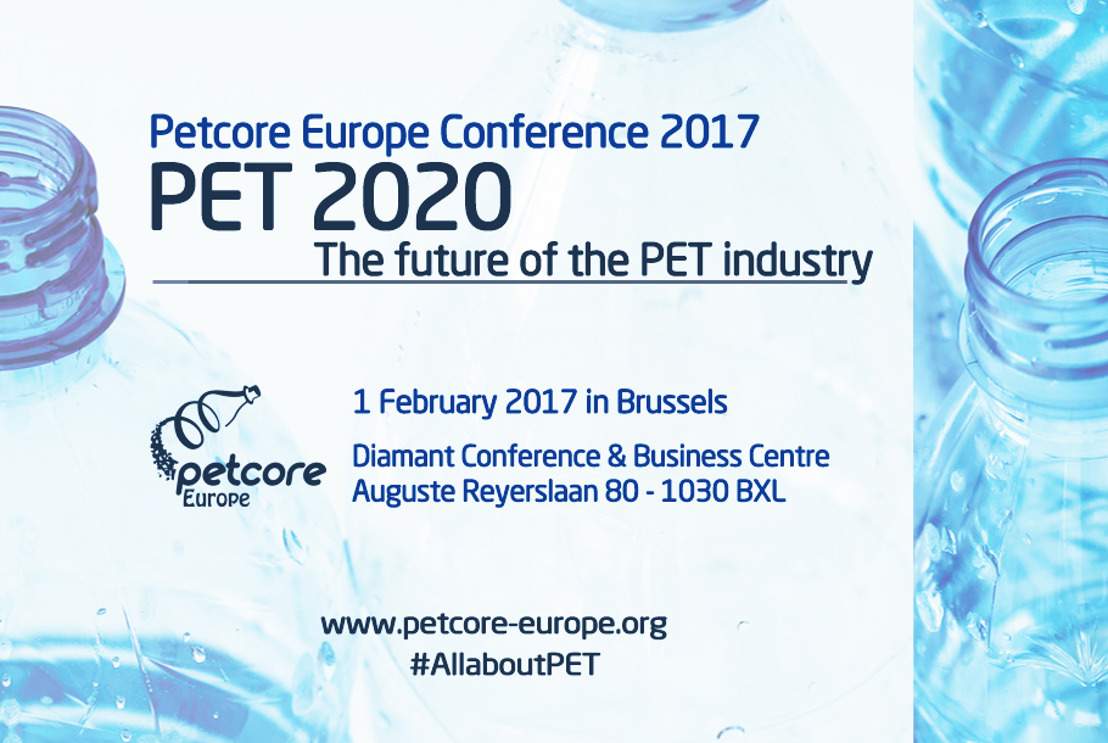 DON'T MISS IT, REGISTER NOW: Petcore Europe Conference 2017 "PET 2020 - The future of the PET industry"
High-level speakers from CPME, Husky, Faerch Plast, Danone, Procter & Gamble, European Commission, European Environmental Bureau, Ellen MacArthur Foundation, EPRO and Plastics Recyclers Europe confirmed for this exclusive PET event.
Wednesday, November 16, 2016 —

Brussels
Petcore Europe invites to its next annual conference in Brussels on 1 February 2017.

Building upon the success of its 2016 edition, our event will bring together around 200 experts and leaders from the entire PET value chain in Europe and beyond.
Programme
Our conference will include two interactive sessions on the future of PET packaging and sustainability. Each session will consist of key note presentations, followed by an extended panel debate with experts from the PET value chain, the EU institutions and other leading organisations.
9:00 - 10:00
Registration & Petit Déjeuner
10:00 - 10:10
Welcome
10:10 - 12:50
PET PACKAGING 2020

PET resin manufacture & performance

Stephen Short, President, CPME - Committee of PET Manufacturers in Europe

PET packaging design & applications

Nicolas Rivollet, Director Corporate Business Development, Husky Injection Molding Systems
Carsten Lauridsen, Senior Project Manager Technology and Development, Faerch Plast

Brand owners' perspective

Françoise Poulat, Sustainable Materials Team Leader, Danone Research
Procter & Gamble - speaker's name to be confirmed

EXTENDED PANEL DEBATE: PET future in packaging applications

Panelists: session speakers

12:50 - 13:50
Networking Lunch
13:50 - 16:30
PET SUSTAINABILITY 2020

PET regulatory trends & environmental challenges

Eric Liégeois, Team Leader Fertilisers, Detergents, Pesticides/Biocides, Plastics and Wastes Recycling, European Commission - DG GROW
Stéphane Arditi, Products & Waste Policy Manager, EEB - European Environmental Bureau
Sander Defruyt, Research Analyst, New Plastics Economy, Ellen MacArthur Foundation

PET post-consumer collection

An Vossen, Executive Manager PLAREBEL / EPRO - European Association of Plastics Recycling and Recovery Organisations

PET recycling & r-PET demand

Casper van den Dungen, Vice President, PRE - Plastics Recyclers Europe

EXTENDED PANEL DEBATE: PET sustainability in the future

Panelists: session speakers & Helen McGeough, Senior Consultant, PCI Wood Mackenzie

16:30 - 16:40
Closing
Sponsorship
The Petcore Europe Conference will be sponsored by organisations or individual companies, and we invite you to contact us should you wish to join this growing list.
As sponsor, your company's name and logo will be displayed on all our communications material (including invitations, agendas, press releases and website) as well as promoted during the event.
To view the sponsorship package, please click here.
Exhibitors
Are you interested in promoting your company and products by exhibiting during our conference?
To view the exhibitor package, please click here.
Registration
To view the delegate rates and to register, please click here.
Delegates
The participants will include PET resin manufacturers, packaging designers and manufacturers, equipment manufacturers, label producers, brand owners, EPR schemes, waste management organisations, recyclers, recycling machines manufacturers, representatives from the European institutions and European organisations interested in PET.
Date & Venue
Wednesday, 1 February 2017, 10:00 - 17:00
Diamant Brussels Conference & Business Centre, Auguste Reyerslaan 80, 1030 Brussels, Belgium
The Diamant Centre is located in the north part of the city, with easy access from the airport, by car with underground parking facilities, and by public transports from the train stations. For more details, please see attached the direction plan.
GET EVEN MORE OUT OF IT AND ALSO ATTEND OUR EVENT ON THE FOLLOWING DAY:
Petcore Europe Workshop on Opaque and Difficult to Recycle PET Containers (ODR) on Thursday, 2 February 2017 in Brussels
Petcore Europe will also organise an open ODR Workshop in the VLEVA Conference Centre in Brussels the day after the Petcore Europe Conference 2017 (please note, the events will take place in two different conference venues in Brussels). This is therefore the perfect opportunity to combine your participation in the 2017 Conference with another one to the Petcore Europe ODR Workshop the day after. Interested? Then click here for more information.
We are looking forward to welcoming you to our conference.
Your Petcore Europe team
WITH THE KIND SUPPORT
OF OUR SPONSORS:
CPME - Committee of PET Manufacturers in Europe, EFBW - European Federation of Bottled Waters, EREMA, Gneuss, Starlinger, WFO - Waste Free Oceans
AND OUR MEDIA PARTNERS:
EUWID, PET Planet, Plastics Information Europe (PIE), Recycling magazine
Eva Schneider Communications Officer, www.petcore-europe.org