Do not miss your chance and sign up now for Petcore Europe - Annual Conference 2024.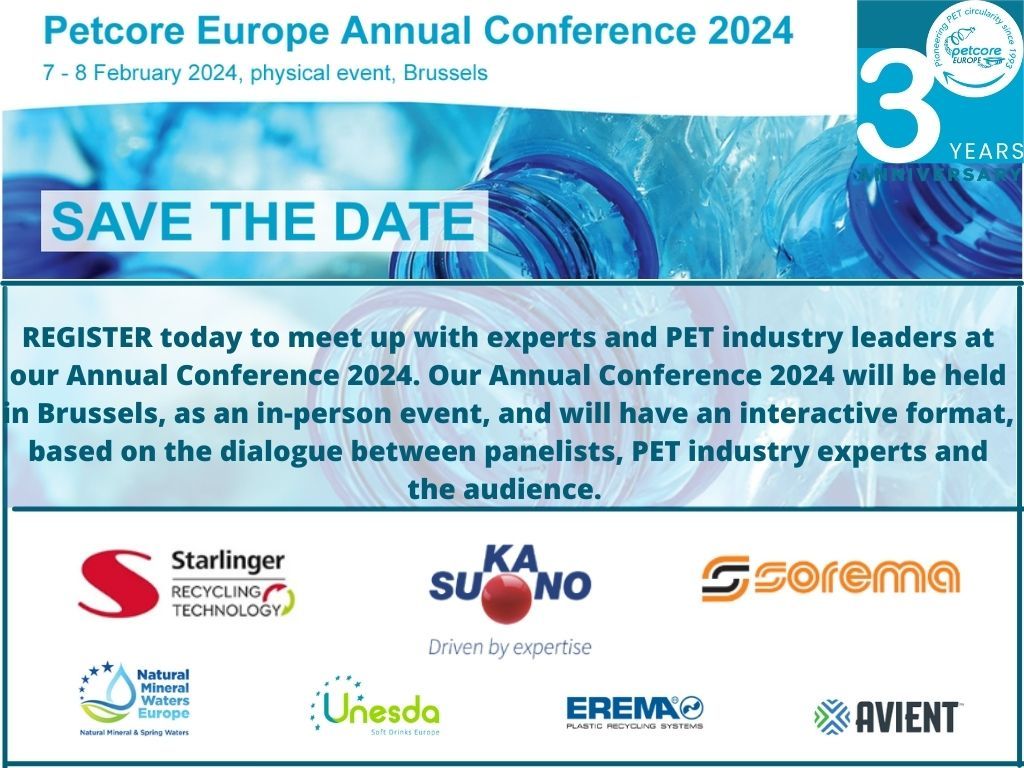 "Our conference is the only event in the year which gathers players from right across the PET value chain - from machine producers and PET recyclers through to brand owners. Petcore is now some 160 members strong and brings together all the different industry players. As such it offers a unique perspective and the conference provides an excellent opportunity to talk business and network with colleagues from across the various facets of the sector." - Antonello Ciotti, the President at Petcore Europe.
In addition to reporting on the achievements of our various working groups, the Annual Conference 2024 will explore the core challenges which the PET value chain has been facing over the past years: market dynamics, Improvement of analytical methods, micro-plastics: update on newly developed analytical methods, recent and future regulatory EU issues and many other insightful topics. We will be welcoming high-level speakers from the European Commission and the European Parliament, who will explain their expectations and goals for the PET value chain in line with the developments of the P&PWR.
The first day will feature high-level interventions from the institutions and business community touching on a wide range of issues. While on the second day of the event, there will be 10 Technical Interventions from all Petcore Europe Working Groups. They will feature a presentation by the WG Chair followed by an extensive Q&A session with experts from the PET industry & the audience, where participants will have the chance to pose questions and share their views in real time.
1. Registration & Agenda
The tickets for this physical event are available HERE. Stay updated and please check our dedicated website for more information about the agenda & the speakers of the event.
2. Sponsors Package
The Petcore Europe Annual Conference 2024 will be sponsored by organisations or individual companies, and we invite you to contact us should you wish to join this growing list. As sponsor, your company's name and logo will be displayed on all our communications material (including invitations, agendas, press releases and website) as well as promoted during the event. If you are interested to hear more about our sponsor package,please contact us on: [email protected].
3. Media Partnership
As a media partner, your organisation's name and logo will be displayed on all our communications materials (including agendas, press releases and websites) as well as promoted on social media during the event. If you are interested to hear more about our media partnership package, please contact [email protected].
4. Hotel Reservation
Should you need to stay overnight in Brussels, please be advised that we have negotiated a preferential rate at the conference venue, DoubleTree by Hilton, which is offering a special group rate, including breakfast, free cancellation – 72 hours prior to your reservation. Please be advised that the number of rooms is limited.
The Petcore Europe Team is looking forward to meeting you all at our upcoming event of 2024!
Save The Date In Your Calendar - Petcore Europe Annual Conference 7-8 February .ics
ICS - 41 Kb
Download